You've heard the old saying: Every headline is a good headline.
Well, to a certain extent, that's true. It all depends on how you handle the stories that come up on a daily basis.
When something bad happens, how you handle that situation can determine whether you can stay in business. Charlie Hodges Media has a proven track record of being proactive in times of crisis. Many times we turn what could be "bad" news into something positive for you and your business.
Just being ahead of the story, able to answer difficult questions and being calm are just some of the keys we use in effective Crisis Communications.
You can also hear how something that could be considered bad, a series of earthquakes in Cleburne, Texas, turn into an informative story on National Public Radio that also promoted the opening of the new golf course.
Our media relations strength helps place those "good news" stories that warm the hearts of the community, and show you in a good light. But If you're looking for a PR firm that writes press releases and then hopes the news media catches on, don't call us. We constantly pitch stories to members of the media in conventional and unconventional ways to get you the coverage you deserve. Let us go to work for you to get your message to the public.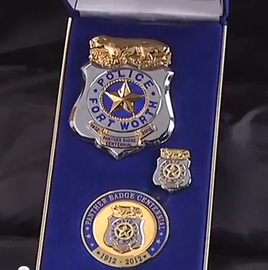 We are especially proud of the work done with the Fort Worth Police Historical Association and the Fort Worth Police Department on the Centennial Panther Badge program. The badge commemorates the 100th anniversary of the Fort Worth Police Panther Badge. Charlie Hodges Media handled all media relations programs leading up to the badge presentation, planned and conducted two media events to promote the new badge and consulted on the actual presentation of the badge during a ceremony in downtown Fort Worth.
What Do We Offer?
Media Relations:
Story Placement
News conference planning and staging
Crafting messaging to news media
Crisis Communications:
Response development
Message delivery
Newsletters:
Writing design and layout
Email and print
Internal and external communications
Video:
Conceptual Development
Directing, Producing, Writing, Photography.
Videos in every format from high-level education to promotion to music videos.
---
Contact us today to find out how our media strategies can give you the competitive advantage that will propel your business to success.