Some of our clients were the first in their fields to get into social media, opening a new way to get their messages to members of their communities. While some in our business read books to learn about the new media, Charlie Hodges Media is in the middle of this revolution. We continually look for ways to make your message stand out and fly at the speed of the internet. Let us develop and implement your social media program.

Taking control of the message
Client
The City of Cleburne
Industry
Municipal Government

Situation
The City of Cleburne wanted to find new ways to reach the public, not only in the city but throughout the country with news and events happening in the city.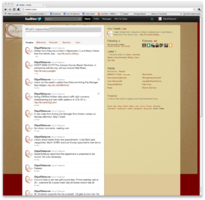 Solution
Charlie Hodges Media boosted Cleburne's online presence by establishing Facebook, Twitter and You Tube pages. Not only does the city have its own Facebook page, but many individual departments, such as the Police Department, Fire Department, Conference Center and Animal Shelter, have their own pages to get their specific messages out to the community. Cleburne is also active in online video. The city's new mayor is looking to Charlie Hodges Media to develop an aggressive video program that he can use to market the city across Texas and the nation
Cleburne on Twitter
---

Adding dimensions
Client
Storage Switzerland
Industry
Stoarge Analyist

Situation
To increase hits to the company's website, Storage Switzerland wanted to develop a new video program for its clients.
Solution
Charlie Hodges Media developed a video format for Storage Switzerland to do "chalk talk" videos aimed directly at IT and Storage professionals to learn about new products coming onto the market. The videos address the needs of Storage Switzerland's prime audience, while addressing the needs of Storage Switzerland's clients. It is a win-win situation for all involved.